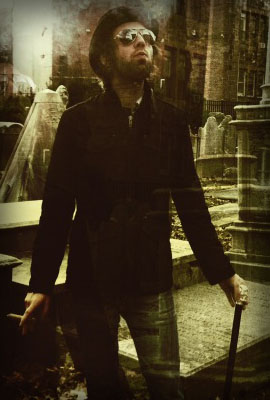 Devin Bronson
Through versatility on stage and in the studio, Seattle native Devin Bronson has met success in a variety of musical platforms, including musical director, guitarist and business entrepreneur. Starting out as a guitarist then branching into songwriting and producing, Devin has been working with some of the top names in the industry for over a decade.
Bronson's path to success began at age 11 when he first began playing guitar. Soon after, he was sharing the stage with bandmates years older than him. His natural talent eventually landed him a touring role at age 18 when he was asked to join Kelly Osbourne's touring band.
With international touring experience under his belt, Bronson joined Canadian punk band Treble Charger for their ''Detox'' tour. Bronson was set to join the band in the studio for their 6th album when he accepted the invitation to take over as lead guitarist and musical director for Avril Lavigne. To this day, Bronson joins Lavigne on world tours, TV appearances, music videos and the special events.
Devin and Evan Taubnefeld worked on an album with producer John Fields for the band The Blacklist Club, that was ultimately released as a solo album for Taubenfled entitled, "Welcome to the Blacklist Club". The two played a full band show at the Roxy in LA and an acoustic set to open for Avril Lavigne.
Afterwards Devin joined Butch Walker on stage for a host of shows including Lollapalooza. This led to Bronson touring with Pink, to promote her single "So What" during TV appearances including the MTV Music Video Awards.
Devin then joined American Idol Season 7 winner David Cook, as the lead guitarist for the This Loud Morning Tour as well as multiple TV appearances and international shows. Bronson also worked on Cook's 4th studio album, Digita Vein, co-writing the song "We're Not In This Alone".
When not on tour, Bronson writes music for a wide array of television and movies including Californication on Showtime, Hellcats and Friends with Benefits. Outside of solo projects, Bronson has collaborated with multipleartists including: 78 Violet duo, Aly & AJ Michalka , Demi Lovato, Miranda cosgrove, UGLY, Heart, Ashley Parker Angel, Tyga, Christine Connolly and Tyler Connolly of Theory of a Deadman. Bronson also lent his skill too all the guitar solos on Demi Lovato's "La La Land" single. Co-writer and co-producer Nick Jonas originally wanted Steve Vai, but due to a schedule conflict, Bronson was asked to stepped in.
Beginning in May of 2013, Bronson worked with Sebastian Bach of Skid Row by taking part in two international tours and recording all the guitars for Bach's follow up album to "Kicking And Screaming". Released in 2014, the album was produced by Bob Marlette and features Duff McKagan, John 5, Steve Stevens and Bobby Jarzombek
Away from the studio, Bronson is co-owner of BN Audio ( www.bnaudio.com ), a San Diego based audio company that produces high quality audio products. The flagship product of the company is the BlackBox, a high performance speaker system with a built in digital amplifier. Bronson is in charge of brand development and message communication to customers and dealers.